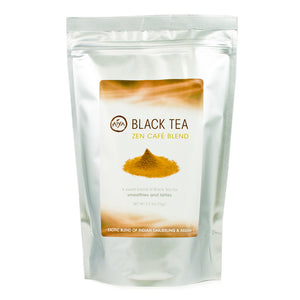 Aiya Matcha
Aiya Black Tea Zen Café Blend Pre-Mix, 1kg
Regular price
$42.99
$0.00
Unit price
per
Following the success of Aiya's Matcha Pre-Mix, they have released the Black Tea Pre-Mix. A blend of exotic Darjeeling and Assam tea from India. Enjoy the exotic aroma and flavors of this black tea in smoothies or lattes. You receive the benefits of the whole leaf through the process of powdering the tea.
The Pre-Mix lines are pre-blended with sugar to lightly sweeten the taste for fast and easy preparation for a fast paced lifestyle. It allows versatile applications when mixed with cold of hot water, milk, or soymilk to prepare ice sweetened tea, smoothies, and lattes.
Black Tea - Darjeeling & Assam Black Tea - combined to present the very best of India. Vibrant deep hues and a deliciously bold presence will refresh your senses. Once hailed as an afternoon delight, and now modernized to be enjoyed by all. Aiya have pre-blended this powdered tea to drink anytime, anywhere.

Weight: 1kg (2.2 lbs.) bag
Serving: 66 servings at 8 oz. a glass for smoothies and lattes 
Recipes:
Apple Black Tea Smoothie

Black Tea Latte with French Vanilla Milk



SKU: A-08002100

---
Share this Product
---